Clear Anodized 3-piece Shotgun Cleaning Kit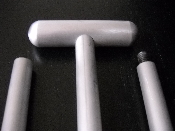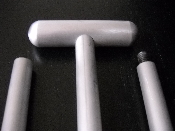 Clear Anodized 3-piece Shotgun Cleaning Kit
This is our standard 3 piece Gun Cleaning Rod with a bonus! We've anodized it for added durability but kept the same great silver finish.
Three 12" sections combine to create a shotgun cleaning rod built to hold up year after year. Machined from high quality aluminum, the SHOOT TO WIN cleaning rod is simple, strong and just plain works time after time.
Easy to assemble, easy to pack and easy to use this rod is made by a machinist who enjoys the shooting sports and is now available to the gun owner who demands the very best in their equipment.
Warranted for the original purchaser for life against workmanship and material defects, this cleaning rod will be the best investment for the excellent care of your fine shotguns. It won't bend, kink or wear out.
Can be used in one, two or three pieces and includes a drill attachment for heavy cleaning. Each shotgun cleaning rod comes in it's own roll-up pouch for easy storage and portability.
Free with the purchase of each shotgun cleaning rod: 1 wool mop of your choice and 1 bore brush of your choice